In the recent years, there has been a surge of interest in urban topics in Ukraine. In the search for the solution of the problems of urban development, an urbanist circle emerged, which includes urban initiatives and organizations from different cities who work with similar problems and solutions, conditions and limitations, challenges and risks.
A study of the network of urban initiatives in Ukraine, which has been conducted by the CEDOS Think Tank, has revealed, on the one hand, the seeds and prerequisites for the formation of a strong urban movement in Ukraine, and, on the other hand, the weaknesses of the network, its communication gaps and potential threats.
Read also:
The development of urban grass-roots initiatives' network in Kyiv, Kharkiv, L'viv, Ivano-Frankivsk and Odesa
In order to realize the existing potential and overcome the threats, on December 16-18, 2016, CEDOS Think Tank with the support of the Heinrich Böll Foundation's Office in Ukraine and the Charles Stewart Mott Foundation held the first Forum of Urban Initiatives in Kyiv, aimed to develop a strategy for the Ukrainian urban movement. The forum was attended by members of grassroots urban initiatives and organizations from different regions of Ukraine, with a whole range of agendas and varying intensity of activities, influentiality and significance. The Forum was organized by the .
As a result of three days of the Forum, the participants created and signed the Charter of Ukrainian Urban Movement as the platform for cooperation in the network of Ukrainian urban initiatives.
If you would like to join the Urban movement and its Charter, please fill in the online form.
The Charter of Ukrainian Urban Movement
The urban movement is a network of formal and informal initiatives which promote the improvement of the quality of urban environment in Ukrainian cities and are united around the following principles:

exchange of experience;
mutual aid;
equality and encouragement of various approaches;
collective regulation of the quality of services.

All the participants of the urban movement share the fundamental values of urban development and of the movement: inclusion, respect, cooperation, the right to the city, the fair city, the comfortable city, the green city.
We unite in order to solve legislative problems and develop legislation that would enable and regulate the creation of high-quality urban solutions.
We unite to shape urban consciousness on all educational levels, including by creating, supporting and developing of specialized MA programs and programs for postgraduate education of specialists and public servants in the urban sphere, as well as by developing and promoting informal education.
We unite to distribute experience, which includes a publicly available database of urban best practices, which are analyzed and documented with elaborate descriptions of problems, approaches, instruments and results achieved. New practices emerge based on experimental and innovative projects.
We unite to ensure that urban projects are created after successful examples have been studied, and involved external expertise.
We unite to make sure that decision making in cities is evidence-based, regulated on the national level, and has local implementation procedures. The principle of evidence-based decision making means that it is mandatory to use research and analysis in planning, design and making strategic decisions about urban development. We unite to ensure that urban development is based on strategies and master plans, which are, in turn based on thorough research and are adopted with the involvement of all stakeholders.
We unite in order to shape the agenda in urban development, including by movement members' participation in government structures.
We strive to make government structures cooperate with the urban movement. We unite to popularize ideas and create connections between different target audiences (the government, citizens, businesses, urbanists), to exchange experience and reflect via regular activities and communication, as well as educational activities in different forms and formats, such as festivals, lectures, discussions, etc.
We unite to help the media create high-quality content about urban initiatives, as well as urban activists and scholars, and to cover the urban development agenda.
Kyiv, December 16-18, 2016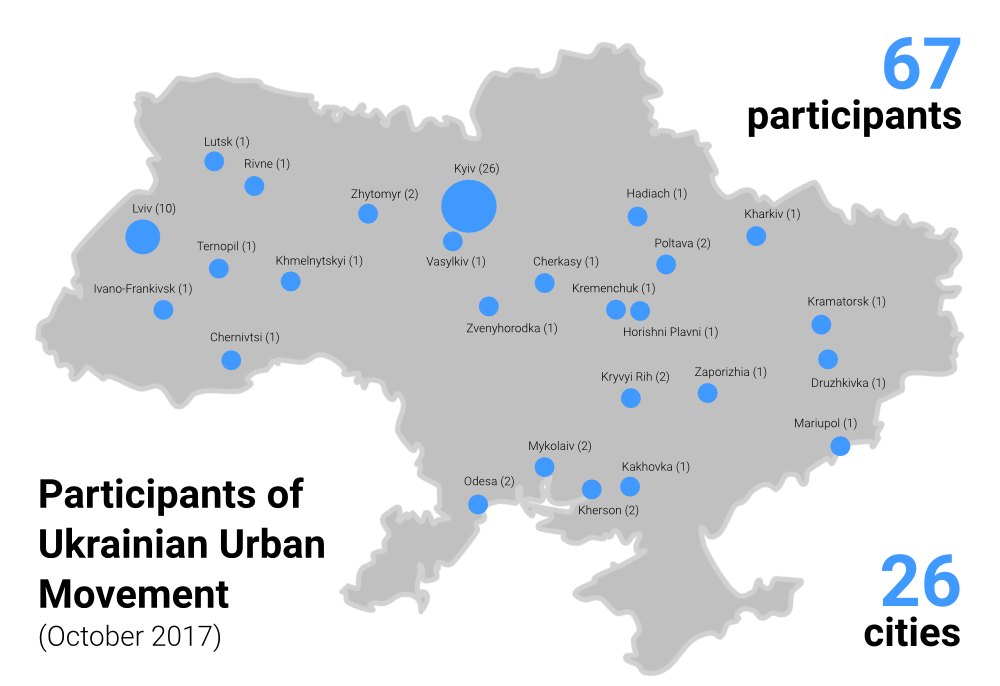 Agency for the Development of Mykolayiv, Denys Moliaka
Ahenty Zmin (Agents of Change), Kyiv, Maksym Holovko
Association of Kyiv cyclists, Vadym Denysenko
Bukovyna Agency for Regional Development, Chernivtsi, Zhanna Oliynyk
CEDOS Think Tank, Mistosite, Kyiv, Ihor Tyshchenko, Maria Hryshchenko
Cultural Di@logue, Kremenchuk, Maria Koliadina
For High-Quality Transportation, Lviv, Rostyslav Vasiuta
Hadiach Druzhniy (Hadiach the Friendly), Polina Vietrova
Heinrich Böll Stiftung's Office in Ukraine, Kyiv, Yulia Popova
Institute for Spatial Development, Lviv, Oleksandra Sladkova
IZOLYATSIA, Kyiv, Anastasia Danyliuk
Mykilska Slobidka, Kyiv, Oleksiy Kravchuk
MIST, Kherson, Max Popov, аs well as Polina Trach
Natalka Park, Kyiv, Natalia Chornohub, as well as Bogdana Beschastnaya
Podolianochka, Kyiv, Pavlo Kaliuk
Hmarochos, Kyiv, Yuliya Saliy
Urban Curators, Kyiv, Andriy Shuliar
URBANIDEAS, Lviv, Robert Mytrychko
Urban Inst., Odesa, Kyrylo Lipatov
Urban Reforms, Kharkiv, Oleksandra Naryzhna
URBAN.te, Ternopil, Dmytro Reifschneider
Zhytomyr: Zroby Holosnishe (Zhytomyr: Make it Louder), Iryna Marenkova, Oleksandra Naymushyna
As well as:
Alliance for Good Deeds, Vasylkiv, Anna Oksanichenko
CANactions, Kyiv, Valentyna Zotova, Olena Kozakova
City Creator, Kryvyi Rih, Alisa Hnydiuk
CityLab, Poltava, Iryna Sadovnikova
Collective Pylorama, Kyiv, Kira Rozhdestvenska
Common House, Horishni Plavni, Volodymyr Dmytrenko
Svidome Misto (Conscious City), Zaporizhzhia, Oleksiy Dobriakov
Kulturna Opozytsiia (Сultural opposition), Zhytomyr, Vladyslav Malynovskyi
DemAlliance Help, Kyiv, Olena Peday
Ecoaction, Kyiv, Hanna Guz
Feminist Workshop, Lviv, Maria Zamelian
For ECOdevelopment, Lviv, Diana Popfalushi
Garage Gang, the City Code program, Kyiv, Anastasia Parpheniuk
Misto-sad (Garden City), Kyiv, Zhenia Kuleba
Group 109, Lviv, Maksym Asafatov, Markiyan Maksymiuk
Holosko Initiative, Lviv, Kateryna Serbin
Institute for the Successful City, Kyiv, Anastasia Rudenko
Kyiv Strategic Community, Kostiantyn Kolesnikov
Laboratory for Cultural Design, Lviv, Maryana Kuzemska-Danylyuk
New Druzhkivka, Serhiy Pronkin
Parasol Gigant, Kyiv, Rodion Filatov
Parents in Action, Lviv, Yulia Hvozdovych
Protect the World, Mykolaiv, Yuliya Bolhak
Proprostir, Khmelnytskyi, Dmytro Reifschneider
ProMolod' (ProYouth), Cherkasy, Daryna Podolian
Revitalize NaUKMA, Kyiv, Oleksandr Anisimov
Rivne – child friendly city, Olena Pinchuk
Smart City, Zvenyhorodka, Andriy Nasadchuk
Teple Misto, MetaLab, Ivano-Frankivsk, Anna Pashynska
Tower, Mariupol, Vladyslav Zaytsev, Larysa Bondaryeva
Ukrainian Youth Climatic Association, Olga Fursik
Ukrainian Research Society, Kyiv, Mariia Rastvorova
Unique Planet, Kyiv, Serhiy Hihat
Urban Area Platform, Poltava, Oleksandr Ivanina
Urban Re-Public, Kherson, Serhiy Dyachenko
Urban Space 500, Kyiv, Sviatoslav Popov
Velokryvbas, Kryvyi Rih, Anna Atamanchuk
Anton Kozyr
Ievgen Petroshchuk, Kyiv
Maria Smirnova, Odesa
Natalia Danylko, Lviv
Serhii Adamchuk, Lutsk
Valentyn Panchenko
Yana Bryk, Kakhovka, Kyiv
Yuriy Trembach, Kramatorsk
Ми хочемо стати кращими і потребуємо вашої думки.
Будь ласка, заповніть коротку анкету (гугл форма), це займе не більше 3 хвилин.
Дякуємо за співпрацю!
Поділитися текстом
Facebook
Twitter
Коментарі