The Integrated Urban Transport and Spatial Planning Strategy for the city of Vinnytsia is considered as a best-practice example for integrated urban planning in Ukraine. It shows a way to avoid expensive public investments in physical infrastructure and is, at the same time, a very efficient tool to support sustainable urban development. With its focus on urban quality and identity, it shows how regional awareness can be supported: potentials of specific characteristics come better into effect which strengthens the regional economic dynamics. For many middle-sized cities in Ukraine with difficult local economic basis and lack of financial means to boost demographic and economic growth, but also for European cooperation organizations, the Vinnytsia case could be a source of inspiration.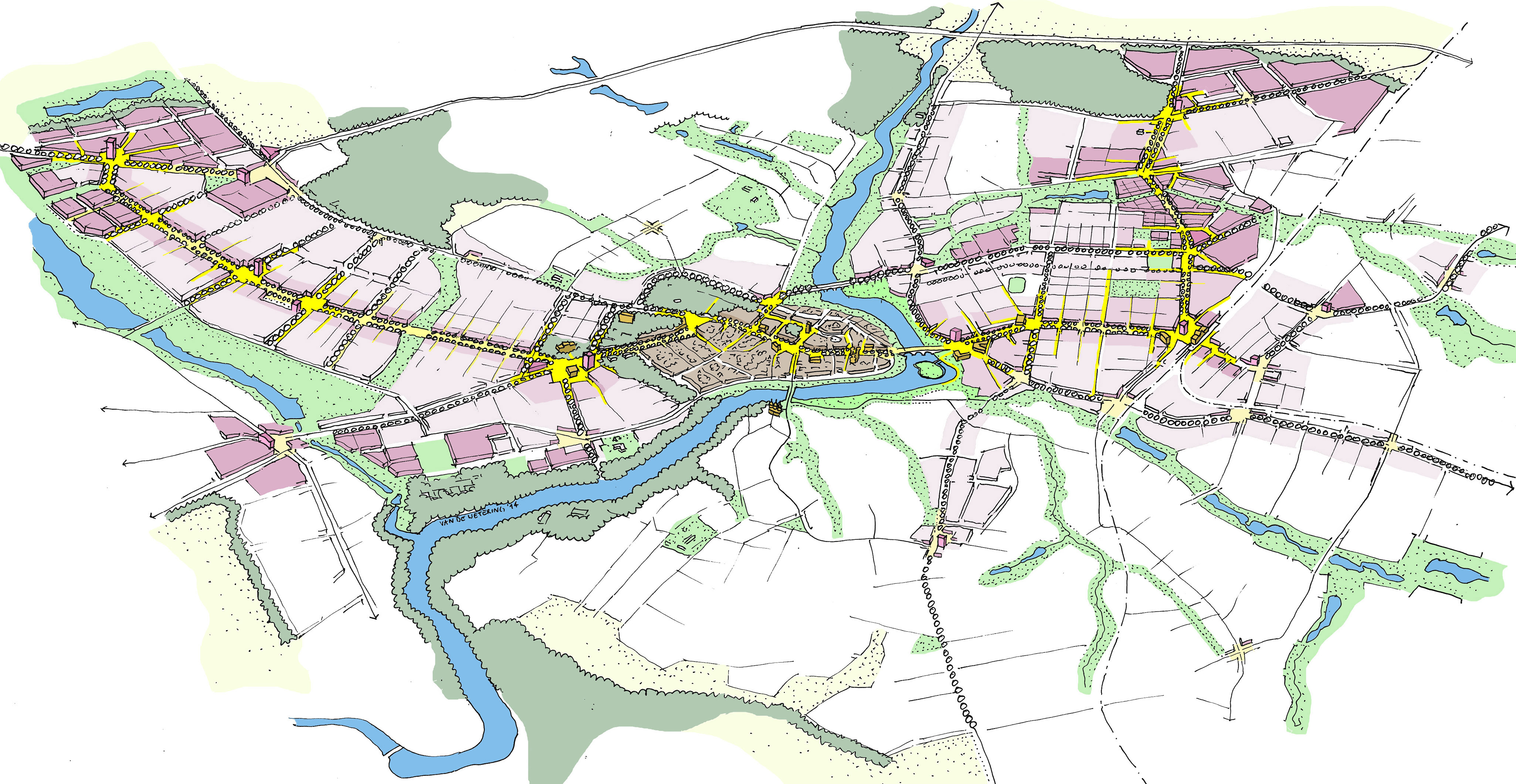 An overall view of the Integrated Urban Development Concept for the city of Vinnytsia: Corso as an urban development and transport backbone. Clear images and inspiring ideas are necessary for effective and constructive participation processes. Source: Van de Wetering Atelier für Städtebau, mrs partner
From quantities to qualities
Today, local authorities of Ukrainian cities have only few competences and resources in urban planning. At the same time, there are weak relationships between key actors of urban development: politicians, local and regional authorities, land-owners, professionals and others. Cooperation with concerned citizens is rare and the advantages of common decision-making are underestimated.
This often results in development strategies and masterplans with little relation to the local context. The focus is on quantities like growth numbers and traffic capacities. Identities and qualities, but also feasibility (local political structure) and viability (economy, financial means) are hardly considered. Besides, the rigid law-based planning system also prevents a forward-looking urban development with ambitious future-oriented projects.
One of the first Ukrainian cities taking over urban development in its own hands was the city of Vinnytsia. The reason for an own, locally elaborated and implemented urban development strategy was the existing General Plan (the City masterplan), proposing large urban extensions, causing an enormous growth of traffic. Large investments in the traffic infrastructure would have been necessary: three new bridges crossing the Southern-Bug-River and two new bridges crossing the railroad were proposed by the General Plan to complete outer and inner ring roads. At inner city locations new flyovers for crossroads and pedestrian-tunnels were proposed, in order to augment the traffic capacity. However, this development was not only far too expensive for the city; it would also have been the contrary to the development of an attractive, sustainable city, envisioned by the city government.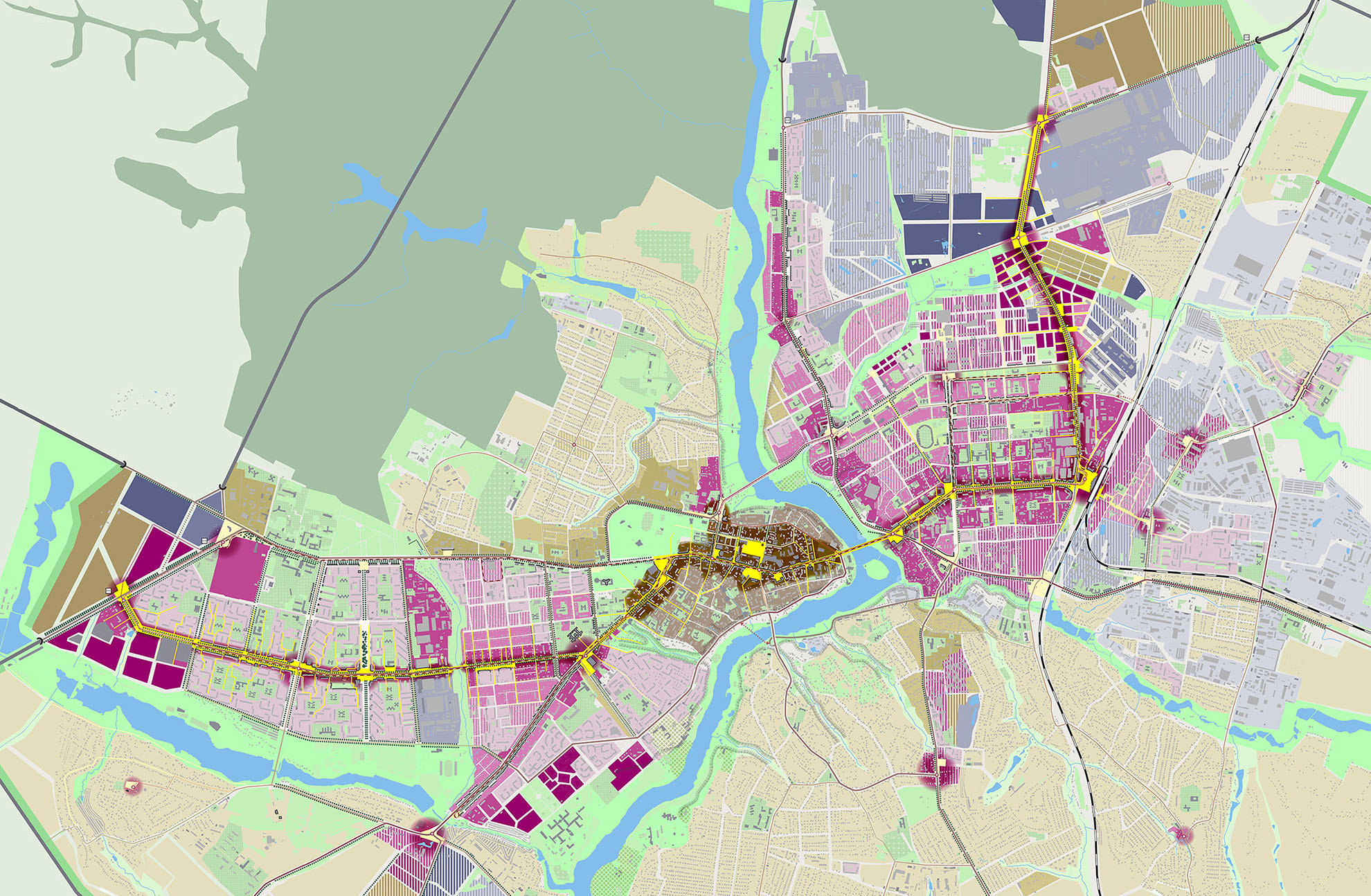 Synthesis Plan as an alternative to the General Plan for the city of Vinnytsia. Source: Van de Wetering Atelier für Städtebau, mrs partner
Cooperation process
Vinnytsia's mayor at that time, Volodymyr Groysman, engaged external experts to support the city administration in the internal modernization processes, formulate its urban development policy and define the project process at large. Financial support was acquired from the Swiss State Secretariat for Economic Affairs SECO, which already procured Vinnytsia trams that were taken out of operation in Zurich.
In an intensive one-and-a-half year process, invited specialists in integrated mobility and urban planning Van de Wetering Atelier für Städtebau and mrs partner designed Vinnytsia's Integrated Urban Transport and Spatial Planning Strategy, in tight collaboration with local urban planning authorities, local partners and stakeholders.
A part of the strategy's elaboration was an actor-oriented approach. A specific emphasis has been made on organizing an efficient participation of all main groups involved in the strategic urban development of Vinnytsia: departments of traffic planning, public transport, urban development, landscape planning, members of the City Council, local professionals and representatives of educational institutes and NGOs. With clear plans and images different possible development strategies were constructively discussed during several common workshops. Also a direct coordination between the external and local professionals in charge was set up.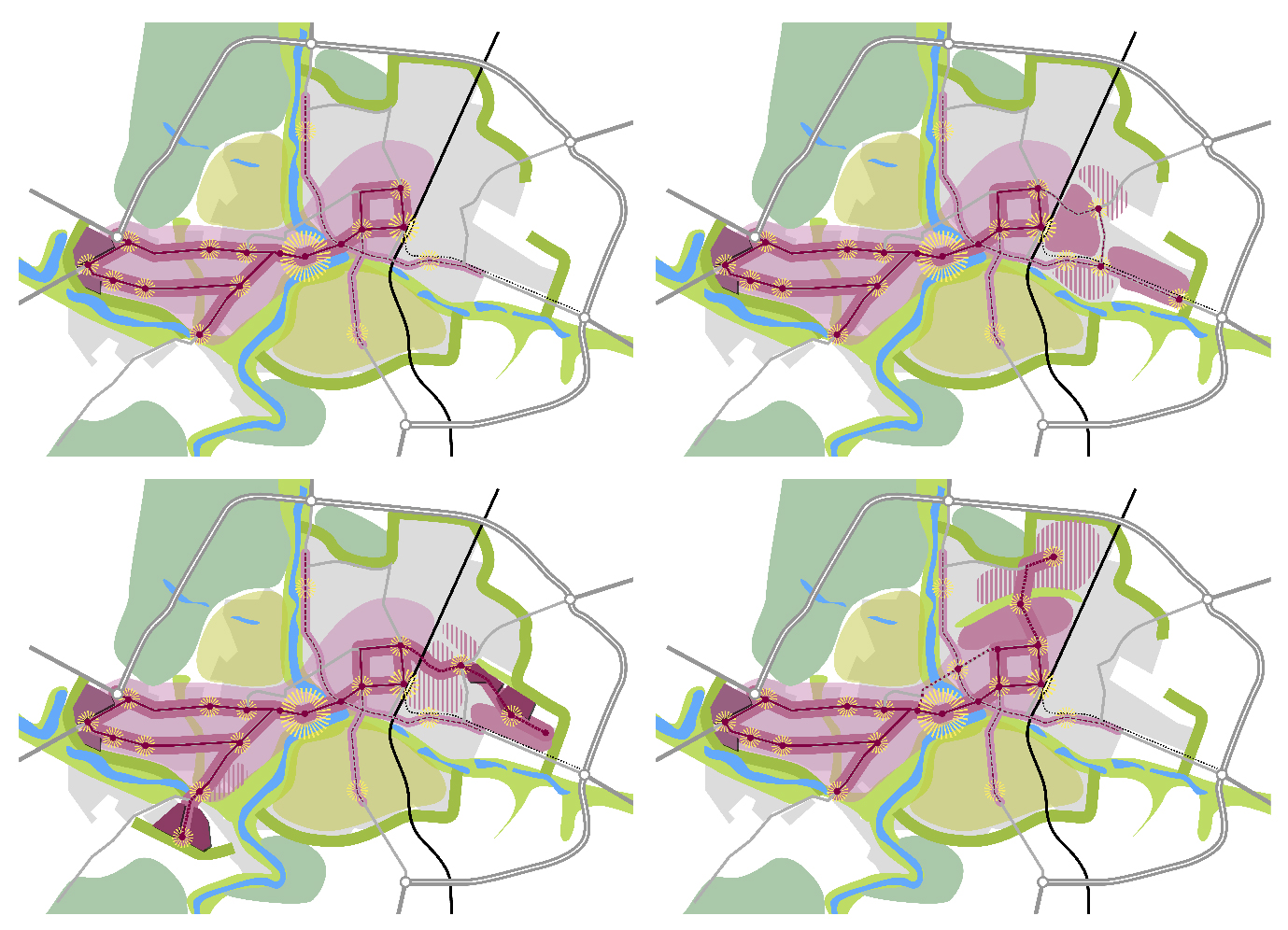 A set of urban development scenarios to support discussions between the different actors. Source: Van de Wetering Atelier für Städtebau, mrs partner
Value of the landscape
In the development strategy, historic structures, which have an important meaning for the local identity, are revaluated and integrated within the city structure. Landscape elements such as the shores of the Southern-Bug River and many small tributary creeks are made better accessible for recreation and contribute to the livability and quality of the adjacent neighborhoods. Profound treatment of the territory also implies preserving diversity of housing environs and district structures which were shaped by the landscape. The strategy reinforces a varied range of housing forms, which is an important factor for attractiveness of a contemporary city. With this approach, the "garden city" character of the hilly districts is preserved and the urban character of the districts in the flat areas will be redeveloped.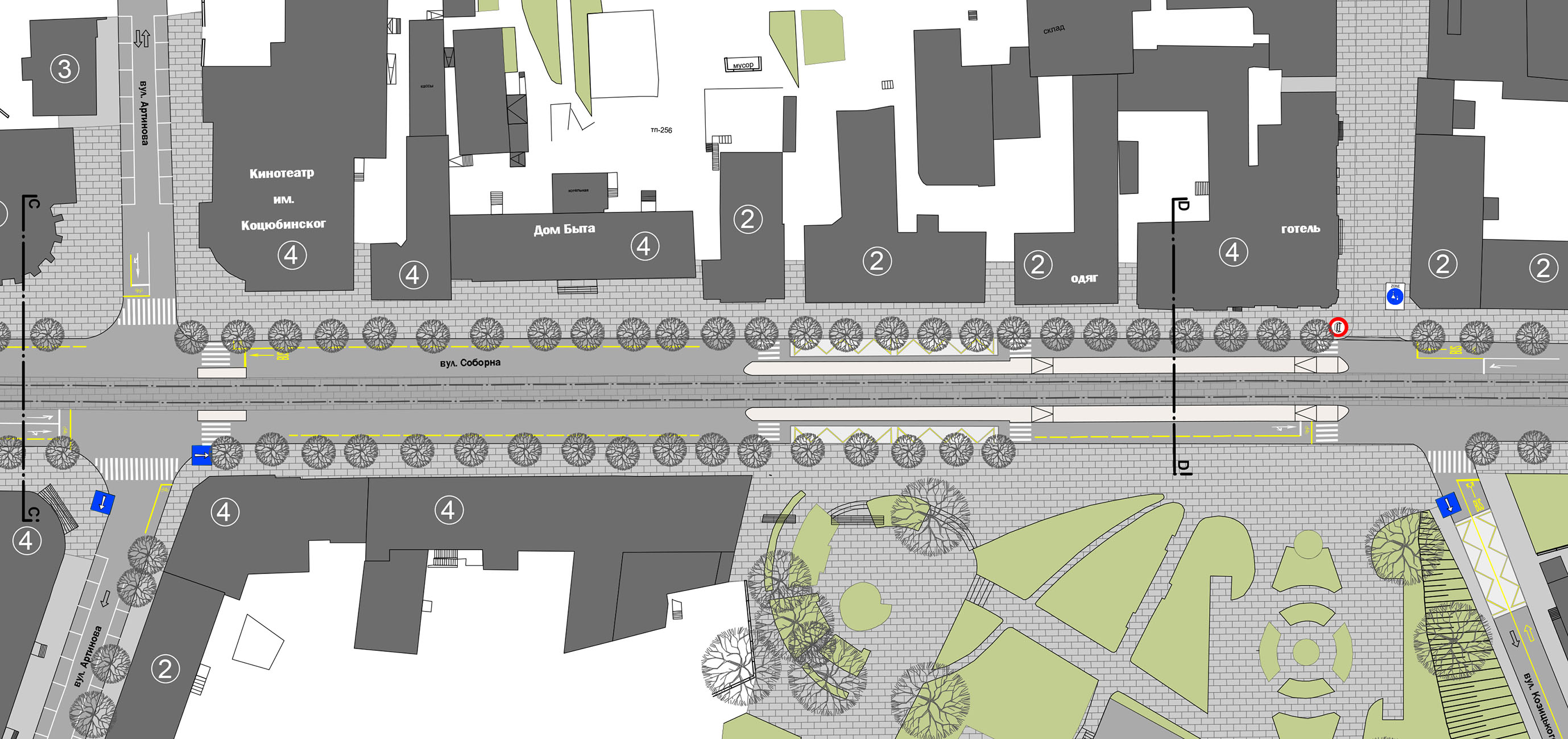 Project proposal for Soborna Street redesign. Source: Van de Wetering Atelier für Städtebau, mrs partner
Urban Corso as backbone
The strategy demonstrates how by one clear and understandable integral overall project demographic and economic growth can be accommodated and, at the same time, local and regional traffic problems can be solved. The introduced "Corso concept" is the main element of the urban development strategy. It intends the transformation of two main radial roads to a continuous urban Corso, where traffic and the city life are integrated in an attractive street space. The main district access road in the western part of the city is connected to an existing main road in its north-eastern part, passing through the historic center and the central station area. Since urban development is an integral part of the "Corso concept", synergies between traffic flows and urban functions are used for a qualitative district development of the city. In the western part of Vinnytsia the focus is on urban infill and urban revaluation of the existing city structure. In the north-eastern part, besides the transformation of the former industrial sites, focus is on new urban extensions, which are integrated within the Corso system.
For the greater part the Corso follows an existing tram line. Only in the most northern part a long term extension of the tram line is intended. In the city centre the tram system is extended by a bypass in order to double the capacity of the system and to reduce the susceptibility to disturbances. With the Integrated Urban Transport and Spatial Planning Strategy the existing road network is used optimal, and conditions for efficient public transport system are improved. New bridges, flyovers or ring roads are not necessary and, last but not least, added value is generated for the already earlier investment in new trams.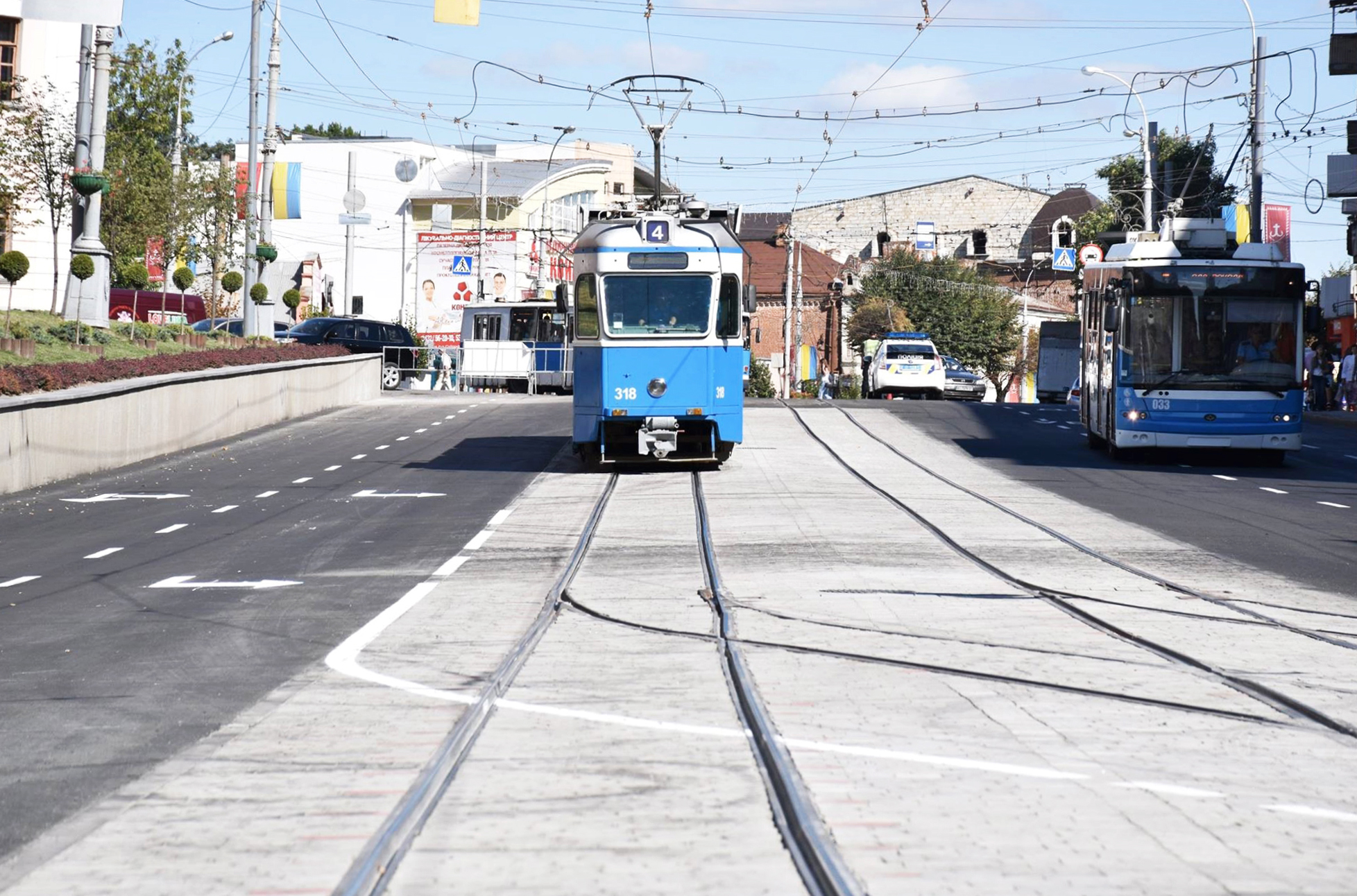 Recently realized redesign and reorganization of Soborna Street. Source: Vinnytsia City Council
Deeds, not words!
Sustainability and cost-efficiency of Vinnytsia's strategy are established by clear, simple, efficient and pragmatic solutions. Its visibility with plans, images and reports, the direct link between overall strategy and precise projects and the cooperative character of the strategy's elaboration resulted within a short time to the first implementations and visible changes (for instance the recent redesign of Soborna Street). Very much rewarded was the aversion to a glossy "high-end" urbanism and the focus on ambitious, but tactful, simple and realizable urban projects.
The Integrated Urban Transport and Spatial Planning Strategy for the city of Vinnytsia is not only an interesting example for other Ukrainian cities of how sustainable, qualitative, cost-efficient urban development on local level can be reinforced. Lessons could be also learned by foreign cooperation organizations, whose integrated urban development projects often are too much considered as a management task, emphasizing organizational processes and lacking inspiring ideas, concrete results and local implementations. To make possible new directions in urban development in Ukraine, more engagement for similar projects would be needed.